Having recently moved down to Dorset and therefore being a little out of the way of big, geeky events in London that I had had the pleasure of attending while I briefly lived there (MCM London Comic Con, Rezzed 2017…) I had heard talk of a Bournemouth Comic Con. I wasn't expecting it to be anywhere near as big as London Comic Con (and I was right) but I do love any excuse to dress up and I don't really mind how big it is as long as I have a good time, because of that this post will mostly be me being a bit cosplay indulgent but then I'll write about the event as a whole nearer the end!
Cosplay
To start the plan for my cosplay I Googled the date of the event to give myself a deadline but what is this??? The 28th/29th August? Aaaah!!! A week away?! (At the time of Googling) There was no way my Mei costume would be ready in time (yes, the Overwatch obsession continues and is now making it's way into my sewing room). I do have my Link costume from my last Comic Con adventure but that shield was heavy and being a bit of a smaller event I wanted to scope out the cosplay caliber first and do something a bit more casual. Luckily, being the fancy dress fan that I am I have a fancy dress box and I soon dug out my Splicer costume (from Bioshock) that I wore for Halloween last year (although Alice in Wonderland and Unicorn were also on the cards). Unfortunately I had thrown my Splicer dress away thinking I wouldn't need a torn up dress any more. Foolish past me. Amazon Prime to the rescue, I ordered a cheapy chips dress at the last minute then Dan and I got to work ripping our clothes up the night before the event, we even took them outside and partially burned them, I bet the neighbours loved that. We went with another two splicers as well, one of which looked pretty scary and got very into character, small children did not like walking past us, that was until it was just Dan and I sat down and a small child walked past us and excitedly yelled "BUNNY RABBITS!!!".
This slideshow requires JavaScript.
As you can see from the slideshow above, I don't do scary very well.
Lots of people took pictures of us though, in fact I think that almost as many people took my picture there as they did when I put loads of effort in and dressed as Link for London Comic Con. Maybe that is because there weren't as many cosplayers so it was a bit more of a novelty to see us, but of those that were there there were some really good ones, here's a little slideshow of some of the ones I saw.
This slideshow requires JavaScript.
There was a cosplay masquerade too, which I believe was a little show where the cosplayers got to show off their costumes, but because the guys wanted to go out and travel across almost the entirety of Bournemouth in search of food at lunch time rather than just buy a sandwich at the event, and also because we couldn't really figure out where to go to actually sign up, we didn't get to go. Nevermind! I know for next time now. It wasn't very well sign posted anyway though, we didn't even know about it until someone asked if we were going to enter, they could have done with handing out leaflets or something with a timetable of events and where to find what but I noticed they didn't do that at London Comic Con either.
Guests
The most high profile guests were John Rhys-Davies (aka Gimli from Lord of The Rings, the role I know him for) and David Prowse (Darth Vader, the body not the voice), I didn't get an autograph or any pictures as I don't really know them for anything other than that so it didn't seem right where as when I met Catherine Tate I have seen loads of stuff that she does, not just Doctor Who.
There were also some Cosplay guests, one day I hope to be that good at cosplay, it's amazing what people can make. I got a few cards so if you're interested here's a link to some super col cosplay people:
Shopping!
Once you've seen 1 generic geeky merch stall you've seen them all really haven't you? It's the artists that really bring these sort of events together, selling things that they've handmade themselves and there were a lot of them in Bournemouth that were very talented. I'm not really one for art, I appreciate it and I'd like some to display on my walls but I don't have the personal interest to maintain a full attention span for a long number of hours, after a while I just don't really care, in London I was so exhausted wandering around that everyone's work just seemed to blend into one and all I wanted was to go home, in Bournemouth though I was happy to wander round having a nice long look at everyone's stuff. Most of what I bought was edible, I bought a brownie and cupcake covered in edible glitter and Butter Beer, being edible they did not survive long enough for me to get a picture… Oops. I also bought a unicorn ear cuff and spent an embarrassingly long time debating whether to buy an alpaca plushie wearing a top hat or not, in the end I decided against it because I wasn't sure if I actually wanted it or if it was just me getting caught in the event hype. It was super cute though…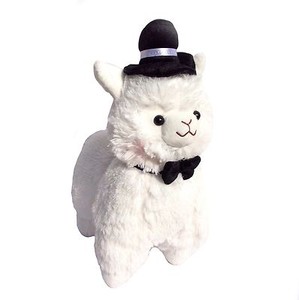 Here are some links to those lovely shops I saw:
In Summary…
I had a really nice time, and I didn't set out to compare the two events at all but you know what? I actually enjoyed it as much as I enjoyed the London Comic Con. I would definitely go again, in fact I may forgo London Comic Con in the future to go to the smaller ones instead, London's not that far away from me I guess but the stress, cost and organisation of it really takes it out of me, this one was just so easy though! London has a much better chance of having special guests that are a bit more relevant to my preferred fandoms though. Having said that all our really famous English actors and celebs seem to end up in American conventions rather than their home turf. One day I'll get to go to San Diego Comic Con…
Have you been to any geeky conventions recently? Would you prefer going to a smaller one or a bigger one? Are you planning any cosplays in the future that you're going to show off?