Halloween time is approaching!!!! I love Halloween because I like dressing up, eating sweets and drinking interesting colour cocktails and pretending they're witch potions, I'm not as big on the scary part though. You may have noticed an absence of talk about scary games from my blog, this is because I am a massive wuss.
I would never be able to get through anything like Five Nights at Freddy's or Silent Hill, I just can't do it. The scariest game I have ever played was probably Resident Evil 4 (Bioshock comes close though) where my sister and I squealed and screamed our way through it. i couldn't finish it, I was terrible at it, my fighting technique was closing my eyes, mashing buttons, and hoping. I still shudder to think of the zombies that had chainsaws, they were horrible. The big difference between games like Resident Evil and Silent Hill though is that you can attack in Resident Evil but in Silent Hill you're reduced to a more realistic version of events, where you just have a torch and your feet to run, if anything gets you you're basically helpless. You're not going to be randomly finding ammunition everywhere in a real life horror scenario are you? Batteries for a torch is a lot more likely.
So basically, horror games overall? Not my jam. Horror games where you can't even defend yourself? Nope. Never. Never ever. Even if I was paid to play them I am doubtful that I actually would be able to. The funny thing though is that I always find their plots so interesting, I want to know what happens in Silent Hill and Five Nights at Freddy's and will happily read theories about them and watch Let's Players play them. I watched my other half play through Layers of Fear a while ago and that was fantastic, I highly recommend that if you like creepy games with a rich story to piece together. We were both so invested in the story and figuring out what was happening, and it's not just jump scares and monsters, it's mostly psychological and some of the things they do to freak you out is so clever. I actually had a nightmare about some of the paintings they have hanging up in the corridors, if you've played it you might know what I'm talking about but I won't elaborate so that the effect isn't spoiled for future potential players.
Enough about Layers of Fear though, that's not what this post's about. This month, just in time for Halloween, the whole Amnesia collection (the whole collection!!!) was announced as one of the free games on PS Plus this month I made my boyfriend download it so that I could watch him play. When we started the first one (The Dark Descent) he'd not finished his dinner so he handed me the controller and asked me to get the game started… OK, I can do that no problem, wander through this creepy castle/big house that's all good, no problem, follow the weird spots of what I can only assume is monster blood on the floor… SCARY NOISE! CHARACTER FAINTING! NO NO NO! I then made the character hide in a cupboard and paused it until Dan was ready to take over. He thought I was joking at first but nope, dead serious.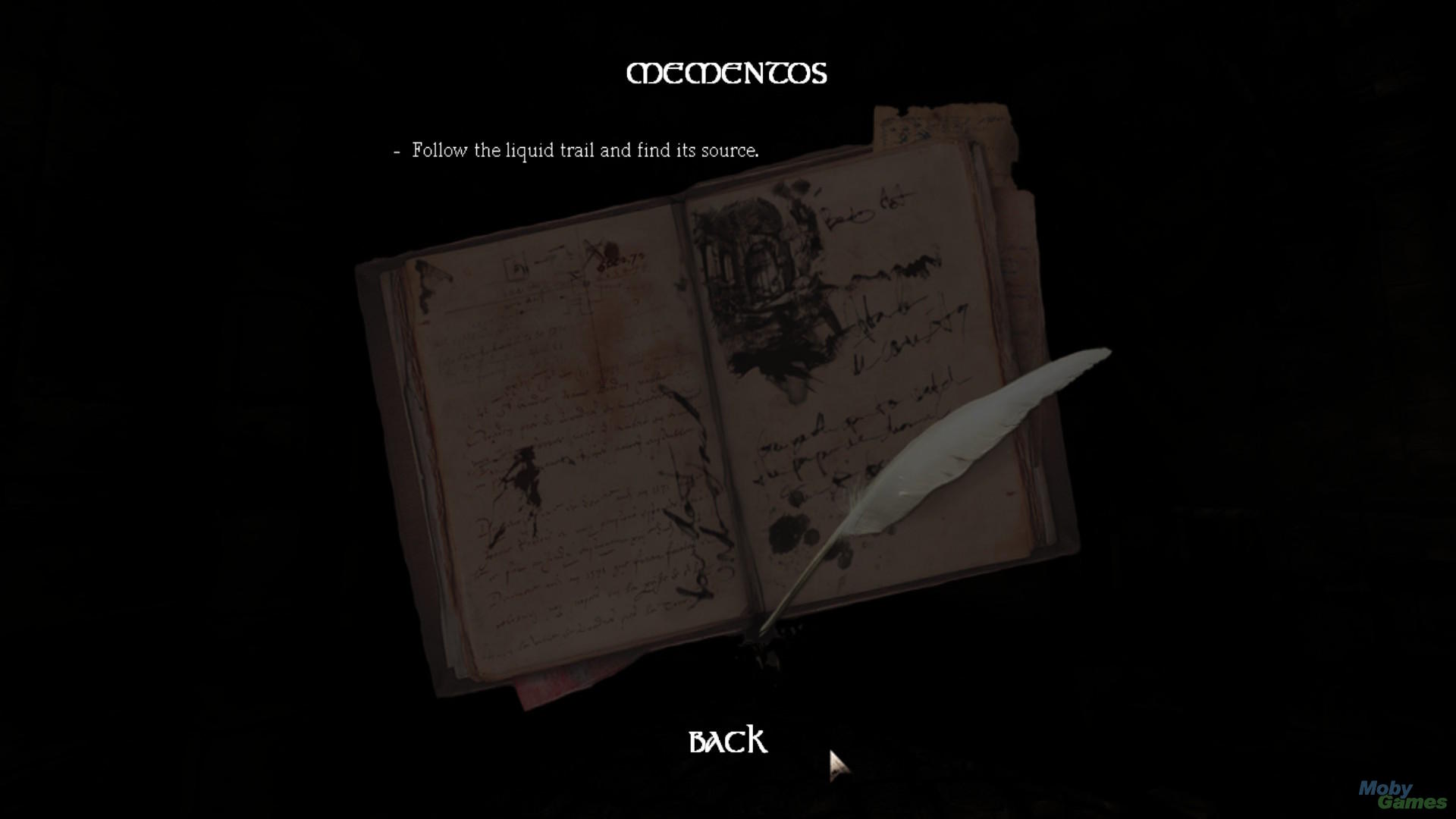 Once he took over I watched in horrified anticipation as he navigated his way around the castle picking up notes that revealed parts of the story little by little and made a bottle of acid to melt some gross blood goop that was covering part of the door to what I assume is where the 'magic' happens. The story so far is extremely reminiscent of H.P. Lovecraft, it reminds me of the story The Nameless City in particular (one of his less known, it's a bit long-winded) which is about an explorer gaining access to an ancient tomb, despite the locals' protests and warnings, getting trapped, and discovering an ancient race of Lizard People. While there are no lizard people in Amnesia (that I know of) there is a lot of talk of an explorer (I assume it's your character, I think he's an archaeologist) travelling to a foreign country where he explores a tomb, ignoring the warnings and superstitions from the locals, getting trapped and finding an otherworldly thing. That's about as much as we know so far, that and the fact that we are in some zombie creating, nut job's castle for some reason where you've managed to leave notes to yourself strewn all over the place.
I for one am enjoying the experience, from the safety of my blanket fort, while Dan – who is not a scaredy cat – is not too thrilled with it. He doesn't like the fact that you run out of resources like lamp oil and tinder boxes quickly and that you kind of lose control of the camera which will move away from its' position when the character gets scared and starts spacing out. I think that it makes it more realistic that way because you're not going to have an eternal lamp in reality and when you pass out chances are you're not going to be looking at the same spot when you wake up as you were before. It didn't seem that different to Resident Evil where you have to open the menu a lot to do things like put oil in a lamp or use items and Dan loves those games (particularly the first one). I'm not playing though so I can't really speak for the controls and game mechanics other than what I see. Dan is also not keen on the lack of monster presence as of yet, he's eager to get to a 'more exciting' part.  We've only seen one monster so far, and when I say 'seen' I mean 'caught a brief glimpse of' before the camera started whirling and I ducked under the blanket to safety, adding a cushion for good measure, it's early days though so that may well change soon. Hopefully my blanket will hold strong against the upcoming animated terror.
Have you played Amnesia? What's your take on scary games?